This was the sketch for today.
This is the card I made for today's sketch challenge. I turned the sketch sideways.
These are the cute, little bags I made for friends at school. They hold 4 Dove chocolates.
This goes along with what I've been saying to myself. We're not home yet. The worst thing that can happen here on earth, is that we die. When we die, we are in Heaven! It's a win-win!
This is the verse today. It's taken a very, very, long time for me to learn this. Early in my marriage I saw every arguement as a win/lose for myself. As I matured as a Christian I began to see that we are a team. No one wins if we are not working together to fight the enemy. I'm sure Satan delighted in our arguments early in our marriage.
We've both developed better skills of compromise and know better what's worth the disagreement. Sometimes we both have to walk away from the situation and talk about it later.
If we can't come to a compromise we sit and hold hands and pray. How can you be mad at your spouse if you are praying?
Once again we return to the tour. This is the Soldiers and Sailors Monument in downtown Cleveland. You can see the Terminal Tower behind the monument.
The Cuyahoga County Soldiers' and Sailors' Monument is a monument to Civil War soldiers and sailors from Cuyahoga County, Ohio. Located in the southeast quadrant of Public Square in downtown Cleveland, it opened July 4, 1894
The Lorain West Breakwater Light, also called the Lorain Harbor Light, is a lighthouse in Lorain, Ohio. The light was built in 1917 on Lake Erie by the United States Army Corps of Engineers.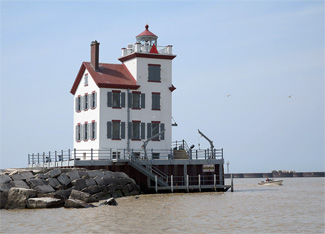 This was taken at the Lorain Lighthouse. The eagles are sitting on the frozen breakwall.
We all need a healer. This is Kari Jobe singing Healer. Nothing is impossible for you. You hold my world in your hands....
Blessing of the Day: I slept in late. The shot I had can make you not sleep well. I was up until 3 a.m. then finally fell asleep and got up about 11. At least I got lots done while I was awake.
I finished my little bags of goodies for Friday.
Medical Update: My neck is sore from the shot and the pressure of it. My are is still sore. I know the doctor said it may take 48 hours before I feel any relief.
It's been snowing a lot today. We'll see how the streets are tomorrow. We're having Lake Effect snow. There's no telling how much we'll get.
Thank you for stopping by.
Blessings,