This card was in the top three for Stampin' Up Only challenges found
here: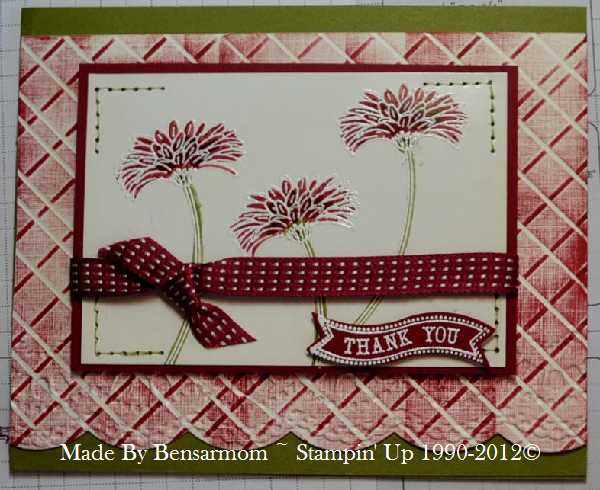 What a great way to start the day. Actually the day started much earlier with coffee and a clean and simple card. These are so hard for me to do, especially with someone else's layout. Here's mine from this morning.
These CAS challenges are so hard for me. I keep wanting to fill that white space with something! I colored the stamp from Serene Silhouettes with markers then stamped one and used the second stamping for my card. I did the same thing with the text from Trust God. Then I added a bow with cherry bakers twine.
It's been a long day. I spent the day with Pam, a great stamping friend. She is an amazing card maker. Check out her blog
here
.
She brought some of her new, cute stamps. She likes Penny Black like me so I loved what I saw. We each show our new, cute stamps and share stamps.
Here's one of the cards she made for a class she teaches. If there are left overs she brings them and we make them. I get to keep one of them. Isn't this just the cutest??? Pam said she saw something like this on someone's blog and she changed some things to make it hers.
I got to make this cute card also.
Here's another card I got to make from Pam.
I can't wait to begin coloring the cute images I got from Pam.
This evening I went to Jan's house. She moved and I haven't seen her house since she did, so tonight's the night. Jan lives in a great area with less noise and a pond in her back yard. It's a wonderful view.
We met one of Jan's neighbors who is a stamper too. She already has a demonstrator though. :)
Time to check for the color challenge then head to bed.
Thanks for stopping by.
Blessing for Today: Ben got outside and is eating a bit more.
Blessings,