We have winds ranging from 30-60 miles per hour today. Seems like it's gotten worse the later it's gotten. I can see little Piglet flying high in the sky.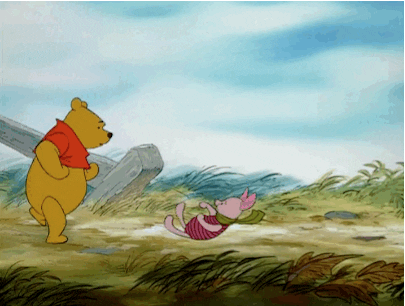 This is so very difficult to do. When we face challenges we tend to rely on our self. However, God wants us to rely on Him in the little things, so it will be natural to rely on him in the BIG things. Please help me Lord to rely on you fully. Keep us trusting and relying on you while Tim's out of work.
This is the card I made today for the color challenge. I used a new stamp set for the background. The colors this week are pink pirouette, blushing bride and old olive. I am making Valentine's Day cards for children with serious illnesses. I'm praying that all of the cards will make kids realize someone is praying for them and cares for them.
I laughed out loud when I saw this card online! I am going to keep the image to use someday on a birthday card I send. Who knows maybe a reader will receive it.
This is another card I did for yesterdays inlaid twine challenge and hot beverage challenge. This is also going to kids for Valentine's Day.
Verse of the Day:
This verse was demonstrated by my dad each time he went to work. When he took us kids he'd go to his office via the kitchen. He'd talk to the cleaners and maintenance workers as well as the women in the kitchen. He asked how they were, how their families were. He was a Physical Therapist with a masters degree in Speech/Language Therapy. He was a very intelligent man who associated with you no matter who you were or what your job.
We heard so many sweet stories about him at his funeral years ago. The tender way he treated people at work has stuck with me.
No matter who you are, not matter what you do, I'll always take time to stop and talk to you.
TobyMac will get you moving with his song, Keep Walking. It's a song of encouragement for those who feel down or far from God. Take the words to heart..... Lift your head....it ain't over yet!
Blessing of the Day:
I got my new laptop today. My old laptop was quite old. How old was it? It was so old the fan kept over heating and shutting the laptop off. While needing to transfer information from the old laptop to the new, Tim came up with an ingenious idea. He turned on a small fan and kept the computer and fan area cool. He teased me and said if he'd have thought about this fix yesterday, I'd be using the fan with the old laptop instead of the new laptop. LOL
I'm so blessed that Tim worked half of the day setting up my new laptop and transfering over files from my old laptop. Thank you Lord for my husband, Tim.
Thank you for stopping by. I am so blessed that you do.
Blessings,