When I saw this, it did change things. I wish I would have seen this early in my marriage.
I've needed this, to disconnect and just be alone a bit this week. Sometimes being quiet is a good thing.
This is for a dear friend who will lose her job in 5 months. The plant she works in will close. She knows God is faithful. It still is upsetting to hear and live with this. She lives alone and her job is her only income.
The Cleveland Indians won the second game of the division championship tonight in 13 innings! Yan Gomes, the catcher hit a ball that rolled down the third base line and stayed fair! If you're old enough to remember the Cleveland Browns in the years where they were called, The Cardiac Kids, you'll know the tension that was felt throughout the stadium and in living rooms all across America, if you were an Indians or Yankees fan. I had a headache at the end of the game. LOL
Here's Yan Gomes getting Gatorade dumped on him. Gomes really needed that hit tonight. What an amazing game to watch.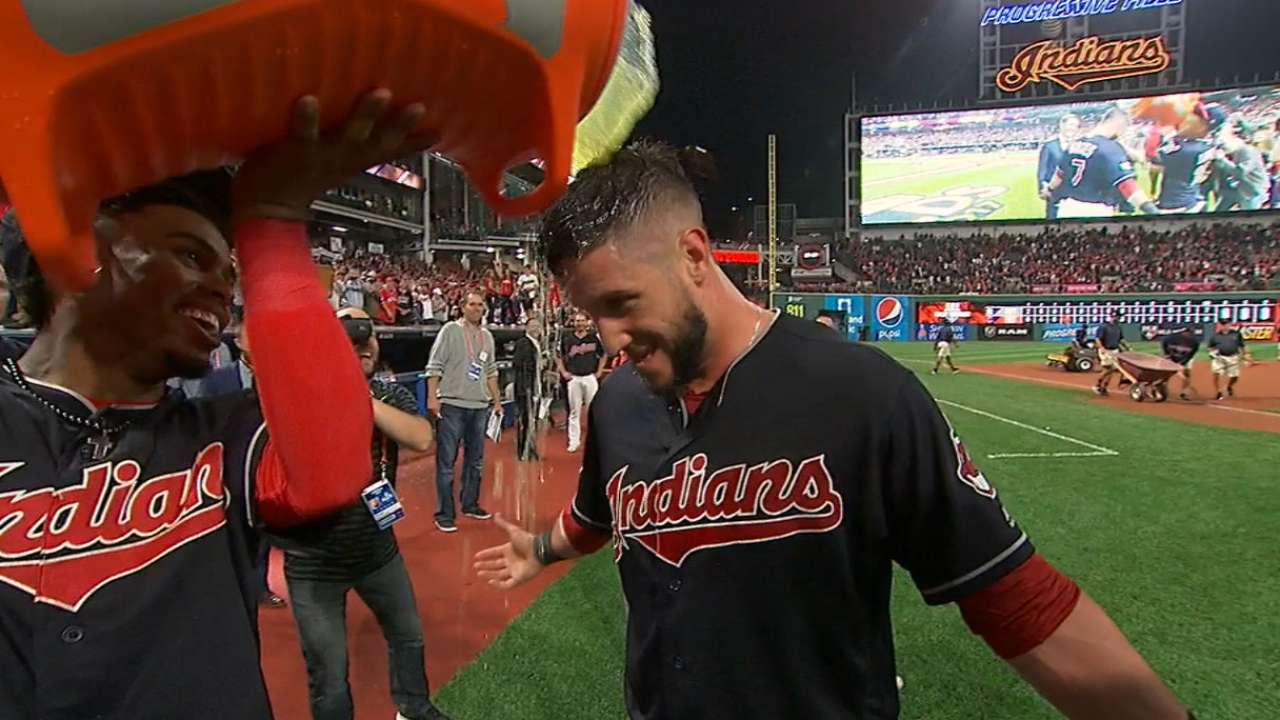 Here is the card I made for Friday's Free 4 All challenge and Saturday's Inspiration Challenge. I used the baby wipe technique for the background. I cut out one baby wipe leaf then cut out two gold leaves. They were tied together with linen thread.
Here's a card made for a challenge this week where you made a card showing fun and games. I chose blowing dandelion seeds. I remember doing this as a kid and having my kids do it as well. What fun memories.
I did this card for the same challenge. We used to have paper airplane contests as kids. Ben and Sarah enjoyed them as well. I remember getting a library book with different ways to make paper airplanes. It was a fun experience and another great memory.
This was Wednesday's sketch challenge Card. Isn't that little mouse the cutest?
This card was for the color challenge this week. The colors were espresso, lemon lime twist and peek-a-boo peach. I used my leaf punch and made a wreath. Then I added gold washi tape and sentiment.
Verse of the Day:
This is a beautiful song. It is so new that there aren't recordings with words yet. I've posted the words. Listen to this song. It talks about not being so busy that you miss the beautiful things in your life. There's no 'do overs'. You get one time around to enjoy your family and friends.
Lyrics:
She puts on her makeup
And the last dress she remembers
that turned his head
That time he said, "You look beautiful"
At six, the front door opens
And he doesn't even notice
Kisses her cheek
"Baby, when do we eat
I'm starving"
Oh, the beautiful things we miss
I don't wanna miss it
I don't wanna look back someday and find
Everything that really mattered
Was right in front of me this whole time
Open up my eyes, Lord
Keep me in the moment just like this
Before the beautiful things we love
Become the beautiful things we miss
She hides out in her headphones
Texting on her cell phone
Daddy's girl built a world
behind her bedroom door
While he was working hard and providing
Bigger houses still get divided
Just yesterday she was on his shoulders,
but today she's older
Why do we get older
We don't get to rewind
There's no such thing as next time
Help me remember,
help me remember,
we don't get this back
They were right when they said don't blink
It all goes faster than you think
Help me remember,
help me remember
The beautiful things we miss
Open up my eyes, Lord
Open up my eyes, Lord
I don't want to miss it
No, I don't want to miss it
Open up my eyes, Lord
Open up my eyes, Lord
Before the beautiful things I love
Become the beautiful things I miss