It's a sad, sad day here;I use the last piece of bashful blue cardstock. It is a retired Stampin' Up color which I loved for many different cards. For many people, it was the 'go-to' paper for baby cards. The card posted is not mine. It is an example of the color only.
I used the last of it on my niece's baby shower thank yous. I was happy to do this. Bashful Blue cardstock was part of a set of pastel colors that retired a few years ago. When I love a color, I will stock up on paper. My only hope is that it comes back with a different name!
Under the heading: GROSS and DISGUSTING:
This is a photo of the Gum Wall in Seattle, Washington. People put their gum on the wall.
Here is an
article
about it. Can you imagine 6" thick with gum? Yuck!
The tradition began in the '90s when theatergoers started sticking wads of gum to the bricks while waiting in line.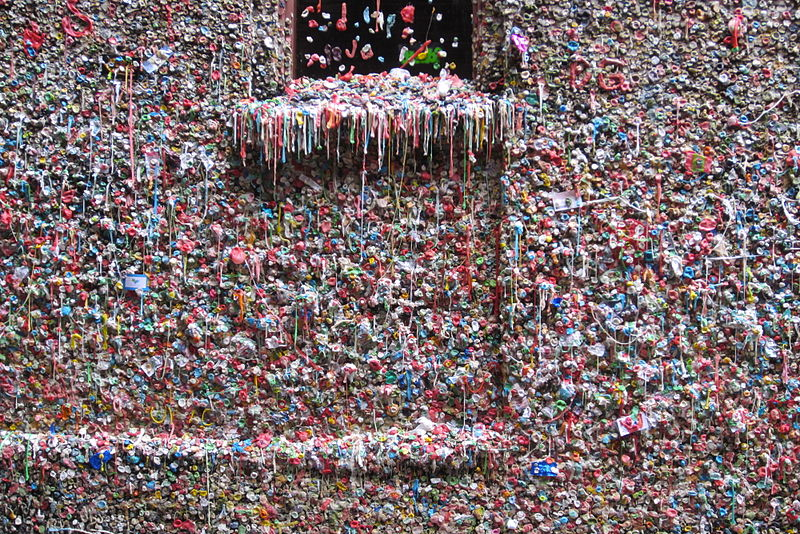 These are a great reminder.
There is a new Polish Market in Parma Heights, Southland Shopping Center. Can't wait to try their food. I will have to investigate where it is in Southland. It's about 7 minutes from home. :) We lost a fantastic Old World Polish restaurant here in Parma. The family retired and no one in the family wanted to keep it open. With all the restaurants in our area, there may be a handful. We're going to one in Brunswick in a few weeks with friends.
I'm clinging to this today. I got a phone call from the orto dr.'s office. The doctor wasn't in yet, but Bonnie, his assistant said he usually doesn't prescribe pain meds unless it's surgery related. I have approx. 2 weeks until I get the spinal blocks....Lord help me. Guide my doctor in his choice of what will be the next medication for me.
This is my Story by Big Daddy Weave is a tuly praise-filled song from their new album. Listen to the music as you read the words.....To tell you my story is to tell of Him..........................
Blessing of the Day: Just got the phone call I was waiting for, he has prescribed pain meds! I've got to get to his office to kiss him! LOL
I have to pick up the prescription! Gotta go. Thank you Jesus for answering my prayer. I want to cry now knowing this is a God moment and He showed me how much he loved me.
I was able to move about a bit today to vacuum my craft area, water some plants and empty the dishwasher. Now I'm sitting on an ice pack! LOL It felt good to do something. Praise God for this small victory for me.
Thanks for stopping in and for your prayers.
Blessings,