This cracked me up when I saw it. I just had to share. I know it's been around before, but each time I love it.
Well we lost tonight against the Warriors. Now we are down 3-1 in the finals. If we don't win in California in game 5, we're done. The Warriors had their game on tonight. The Cavs just didn't. They made too many mistakes. Seemed like James was out of it tonight.
This is one of a set of 8 cards I made with different sentiments on the front. I have a stamp that makes those splatters. I saw this on Tami White's blog. While posting this, I had to remember who made this card so I could give her credit. Tami White was the first Stampin' Up demonstrator to sell one million dollars in product! Since then 15 more ladies have done it. I looked on Pintrest for this card and found it several times. The ladies that posted it didn't reference it back to Tami. They made it look like it was their idea or they said they saw this somewhere on the internet but they don't remember where. I don't think that's right to do. I feel that if you are going to publicly post something the originator should get the credit.

These cards were made using an assembly line technique. I included splatters on the front and back of the envelope and the front and inside of the card. This was fun to do. Thanks Tammy!
This was on Facebook today. I shared it for a couple in Africa who are facing something that has them asking for prayer. There have been uprisings in the city with people who don't want a certain person to be elected the head of their country. People have had demonstrations with fire and some damage as well where they demonstrate. Jenni and Tim Jarvis we are praying for you.
There is someone else who
needs prayers.
Jay the basist from Big Daddy Weave has a terrible infection going through his body. They have had to amputate his feet. Please surround him and all who are working to save him, in prayer.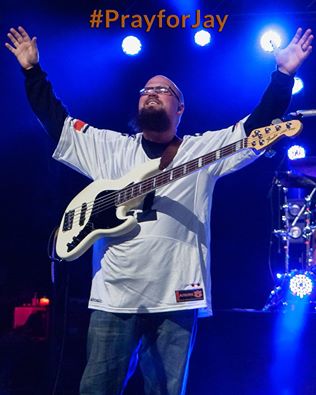 Right here and now I pray that the staff working with Jay will be given the wisdom they need to fight this infection in Jay's body. James 1:5 says, If any of you lacks wisdom he should ask God, whos gives generously to all without finding fault, and it will be given to him.
I visited my mom last night and stayed for 3 1/2 hours. Mom taught me her way to cast on stitches for knitting. I never knew there was a different way than I knew. Here is how she taught me.
I can't find a video for the way I learned! Years ago my grandmother taught me how to crochet. She taught me how to make Granny Squares and a ripple afghan. I saw a baby blanket pattern for a large Granny Square blanket, where you just keep going around and around the square until it is the size you want. It's easier than making lots of small squares and attaching them together to make your blanket.
Blessing of the Day:Tim, Sarah and I went to Panera for dinner. It was nice to spend some time with her.
Well, it's late and I have to get some sleep.
Thanks for stopping by.